Thank you for subscribing to The Solari Report. Our mission is to provide actionable intelligence to help you live a free and inspired life.
We believe that personal and family wealth is a critical ingredient of individual freedom and community health and well-being.
To make sure you can access all the materials available to you as a Solari Report subscriber, here's a brief tutorial introducing the features of your subscription and offering tips on how to navigate The Solari Report website.
First Up, Login!
Click on LOGIN at the top-right of the home page.

Username: Email address
Password: The one you created when you purchased your subscription.
If you forget your password, you can go to the top-right of the page and click RESET PASSWORD.
Weekly Solari Reports
Weekly Solari Reports are interviews with Catherine or a guest doing a singular deep dive on assorted topics. Solari Reports are made available to our subscribers in MP3 (audio) format, with the option to download or listen on your computer. Interview transcripts in PDF format follow in 1-3 weeks. Weekly Solari Reports may be found near the middle of our homepage or under THE SOLARI REPORT at the left of the main menu.
Money & Markets Reports
Catherine produces her weekly audio analysis about the latest financial and global events in Money & Markets, made available to subscribers in MP3 (audio) format, with options to download or listen on your computer.
In the Money & Markets report, Catherine also covers the Solari Hero of the Week and offers her weekly recommendation for a movie, documentary, or video that will help you understand the "deeper news." You will find Money & Markets reports at the top-right of the Solari home page.
Note: Money & Markets is published late every Thursday evening, with the exception of the last week of the month and the last two weeks of December.
News Trends & Stories Remodel
All News Trends & Stories categories can now be accessed in one place and also viewed one category at a time. You can sort by date, title, source, category, or tag. Please see the light-blue sub-menu, just under the main menu on our home page. You can also still access the News Trends & Stories categories as before, by clicking on the associated image on the lower-left side of our home page. Scroll down and take a look.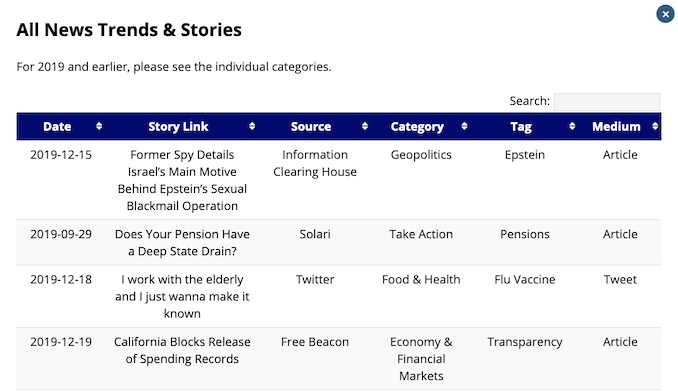 Quarterly & Annual Wrap Ups
The Solari Report publishes Quarterly and Annual Wrap Ups. The first two parts of each Wrap Up are a review of the top News Trends & Stories of the quarter with Dr. Joseph Farrell. The third part is Catherine's review of financial markets, including technical analysis from Rambus Chartology. The final part is a deep-dive into the Wrap Up theme—an important trend impacting our lives in the global economy. Each Wrap Up includes audios and a dedicated web presentation that evolves as content is published. When all the materials are finished, an illustrated book is published in PDF format and hard copy. Hard copies are available for purchase at the Solari Book Store for subscribers only. Digital + Print subscribers automatically receive Wrap Up hard copies with their subscription.
A complete listing of Quarterly and Annual Wrap Ups is located near the middle of our home page, under SOLARI REPORTS.
Special Solari Reports
On our website, Special Reports are available in audio or text format about topics ranging from global events to health. Special Reports may be found below WHAT'S NEW on the right side of our home page.
Solari Library
For older Solari Reports, click on LIBRARY at the right of the main menu. In the Solari Library you'll find all past Solari Reports, Wrap Ups, and articles written by Catherine. If you don't find what you are looking for with a search on the home page, we recommend checking the Solari Library. Many Solari Report topics are as relevant today as when they were first published.
Dillon, Read & Co. Inc & the Aristocracy of Stock Profits
Dillon, Read & Co. Inc & the Aristocracy of Stock Profits is an online book by Catherine, documenting her experience as Assistant Secretary of Housing-Federal Housing Commissioner and President of The Hamilton Securities group. The book describes Catherine's efforts to stop the devastation of local communities by mortgage securities fraud and corrupt federal finances and discusses the impact of the secrecy that has plagued our society. Dillon Read & the Aristocracy of Stock Profits is available for free to the public. Scroll down to the bottom right of the home page, in the blue footer section, and click on Dillon Read & Co. Inc.
Comments
Comments are NOT visible to the public. This is true for public or private posts. You can only make comments, or see comments from other subscribers, if you are logged in.
Solari Support
If you need help navigating the website, changing your email address, or upgrading your subscription, please create a support request. Our Customer Support department will help you find solutions quickly.
Weekly Update
Every week in your email, you'll receive a Solari Update providing an overview of upcoming reports, events, and announcements. The update also includes a section called "Blast from the Past" that brings back past Solari Reports that reflect the news today. You can view all archived newsletters at UPDATES at the middle of the main menu.
Frequently Asked Questions
Our FAQs can be found at the right of the main menu.
We intend our Welcome Page to provide you with the tools you need to fully access The Solari Report. We hope you enjoy your subscription and look forward to growing with you in leading a "Free and Inspired Life."
The Solari Team.